In the process of setting up a charity website, chosing the right domain name is one of the more important endeavours. The domain name is the computer name of your website, it's what tells your computer where to look for your site. Because they are the root address of your website they hold a fair bit of brand power. facebook.com, google.co.uk, amazon.co.uk, tesco.com are all recogniseable domains that in themselves promote the brand. Some sites take it a step further where the organisation or company name is the name of the domain, one.com is a good example where the company name is the full domain name, including the dot com.
The question is, if I need a website for my charity, how do I go about choosing the right domain? Well first things first, start with the name of your charity. Unless you are a very well recognised charity an abreviation isn't going to work. I have no idea what tcw.com is (consultancy firm of some sort), but thecharitywebsite.com, I know what I'm getting myself into. Take, for example, the fictional wildlife charity "The Bears Charity", now it's unlikely that bears.anything is going to be available, and often we don't want to be competing with other similar addresses anyway (now was it .org or .net?!), but thebears or bearscharity is more likely to have something available. I like to use Domainr to check the availability of domains and to get some ideas. Here I've simply entered the name of my fictional charity and I've been given suggestions on what domains I could have.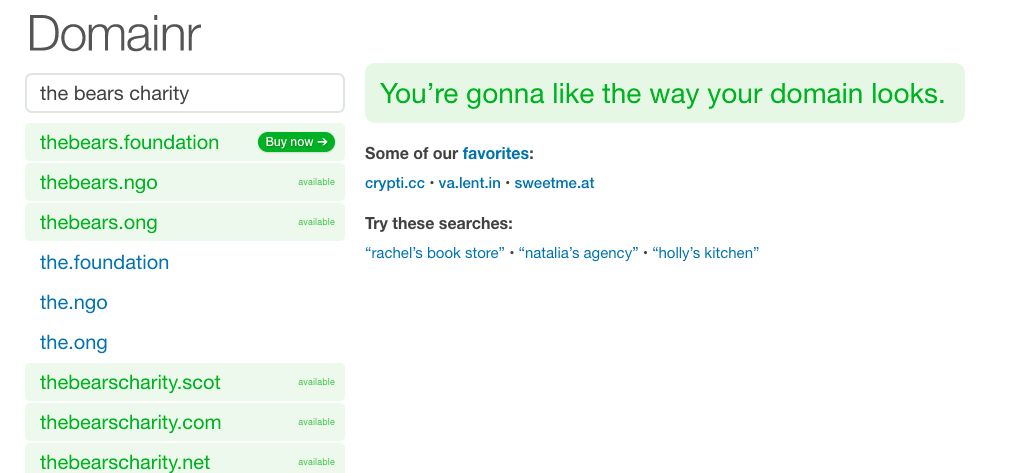 Now if I actually had a charity called "The Bears Foundation" it could be perfect to use the new TLD (Top Level Domain) .foundation. However, in this case it's not appropriate. Because of the ubiquitousness of .com, .org, .net, .co.uk, it really needs to fit well to move away to one of these new TLDs. They're awesome if they work well but if they don't they'll actually just confuse your visitors. Because I'm based in Scotland, something like bears.scot or bearscharity.scot might actually be a good idea. However something like bearscharity.website isn't that great.
In general if you can get yourname.com/.co.uk that's best. For a personal website, if you are lucky enough to have an unconventional first name then getting your first name as a domain might be fairly easy. My friend Nell Goddard is fortunate enough to have her first name spelt in the most pretentious of ways Alianore (it's pronounced Eleanor).
I guess the golden rule is, don't be confusing. Pick a domain that makes sense for your charity. If you want help, drop me a line at hello@thecharitywebsite.com, and we can discuss what's best for your charity.
Want to make the most of your online presence? Send Us an Email